Birthday:
Full name:
Fernando José Torres Sanz
Place of Birth:
Height:
Weight:
Position:
Nickname(s):
Wife / girlfriend:
Lives in:
Club information
Current club:
Previous clubs:
Atletico Madrid (1995-2000)
National team:
Youth clubs:
Parque 84,
Mario's Holland

About Fernando Torres
Fernando José Torres Sanz, also known as Fernando Torres or "El Niño" ("The Kid") is a Spanish soccer player who has emerged as an early starter at age 17 and currently plays for Liverpool Football Club in England. He was born in the outskirts of Madrid, Spain, in a large suburban city called Fuenlabrada. At age 17, Torres became the youngest player to wear Atletico Madrid's uniform and became the team's captain only two years later. In "La Liga" (one of the best football leagues in the world), he scored 75 goals and prior to that, appeared 40 times and scored 7 goals in the Spanish Second Division.
Fernando Torres' passion for Atletico Madrid started early. His grandfather was an Atletico's supporter, although he wasn't very passionate about soccer in general. That led to Torres' to immediately become an Atletico's lover as well. Torres excels due to his agility, strength and precision in his strikes, helped by his strong build and 6"1' height. After his deal with Atletico Madrid, other major English teams like Chelsea and Manchester United speculated his acquisition but "The Kid" preferred to stick with the tradition of Liverpool, where he currently plays as a striker, wearing shirt number 9.
Torres' Background
Born in March 20, 1984(1985-02-05) in Fuenlabrada, a suburban city outside of Madrid, Spain, Fernando Torres (aka "El Niño") was inspired by his grandfather's devotion to Atletico Madrid Team. Although his grandfather was not a big football fan, he religiously supported "Atleti" and wanted to pas his devotion to his children and grandchildren. Being part of a soccer-crazy neighbourhood, The Kid joined his first team "Parque 84" at age 5.
clubs such as Manchester United, Barcelona, AC Milan, Real Madrid and Juventus. Later that year, he was awarded the title of Best European Player for his age group. In 1999, Torre's childhood dreams became reality when he signed his first contract with Atletico Madrid.
With a broken leg just in the start of the 2000-01 season, Fernando Torres had the chance to prove again his will power and strength. After the broken leg healed, "The Kid" became unstoppable:
He helped his under-16 team win the Algarve Tournament and the 2001 UEFA European Under-16 Football Championship and joined Atletico's senior team by the end of that same year. His first appearance in the senior team was on May 27, at El Calderón, against Leganés but it was only a week later when he scored his first goal in a game against Albacete Balompié.
Atletico's return to La Liga was not the best in 2001-02 and Torres scored only 6 times in 36 games and also did not have the best luck in the 2001 FIFA Under-17 World Championship, scoring only one goal in three games, which was not enough to push the team to the next group's stage. However, later that season El Nino won the 2002 UEFA European Under-19 Football Championship and although scoring only once in the final match, he won the award of the Tournament's Leading Scorer (4 goals in 4 matches) and Best Player. In 2003, with Atletico in a much better position, Torres was crowned the team's captain at age 19. He led his team to almost victory in the Intertoto Cup, getting him started in the European Club Tournaments. They lost in the penalties to the Villarreal.
Liverpool
Although Torres was part of Spain's National Team in the 2006 World Cup, speculations were raised from all parts about his possible transfer, since his team could not secure an automatic UEFA Cup spot. The major European teams like Liverpool, Arsenal, Manchester United and Chelsea were all part of the gossip involving his transfer, heavily projected in the English and Spanish media. Gossip that made Atletico's President Enrique Cerezo to publish a public statement saying ""We've received no offer from Liverpool or any other club or player."
But everything seemed to indicate that Torres was indeed being transferred somewhere, especially with rumours that Luis Garcia would move in the opposite direction and that Diego Forlan was to join Atletico, supposedly to replace Torres as a captain.
On July 3rd of 2007, Fernando Torres passed a medical for Liverpool and on July 4th, both players and team held a press conference and bid farewell to Atletico's fans. It was Liverpool's record deal sign, at 20 million Euro, for a 6 year deal. Torres has stated that he intends to play for Liverpool for the entire period, although it's widely reported that his pay check dropped from 130.000 Euro in Spain to about 90.00 Euro in Liverpool.
International Football
Spain Torres was the star of his national team in the 2006 FIFA World Cup in Germany and scored the final goal against Ukraine in a 4 to 0 win and also score against Tunisia in the 31st minute of the 2nd round to lead at 2-1 and again at the very end of the game.
Torres was a huge influence in EURO 2008, where he was involved in the action in each match, and in the final match scored the winning goal. Spain beat Germany 1-0 on Torres' goal, a shot that he lifted over German goalkeeper Jens Lehmann and put into the corner of the net. Torres was the only striker for Spain who had a 4-5-1 formation, but that worked and Spain earned the title of best team in Europe.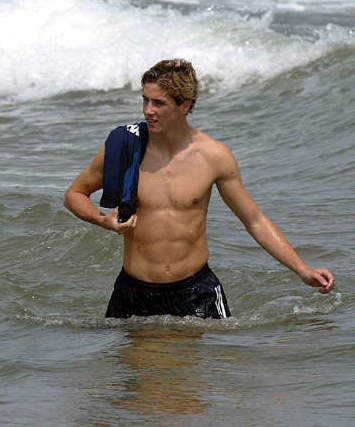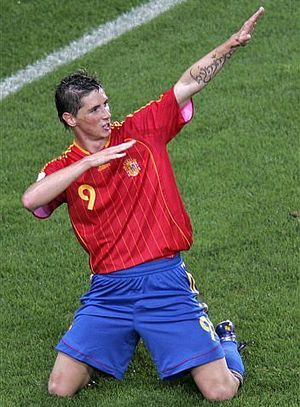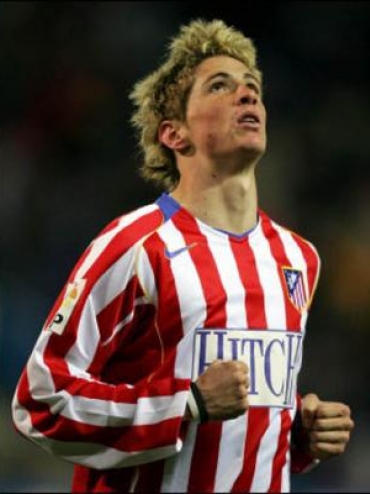 Fernando Torres Wallpapers